Plain Copper Bottle
Regular price
$38.00 USD
Sale price
$29.99 USD
Unit price
per
Sale
Sold out
Description

Copper plays an important role in maintaining our bodily systems including the digestive and immune systems. For this reason, drinking water out of a copper bottle is very beneficial. You might not be getting the necessary copper in your body from your food or your surrounding, so taking it through water by using a copper water bottle can be the easiest and the most effective way. Locally sourced in Nepal, pure copper has certain properties that can kill harmful bacteria as well as reduce inflammation in the stomach and it is also environment friendly
With copper bottles from Yala Garden, you aren't just taking a step toward a better immune system, but also towards a better environment. Invest in a good copper bottle today.

Features:
• Material: Pure Copper
• Colour: Copper
• Durable and lightweight

Get Yala Reward Points

For every dollar you spend, you get 5 reward points which you can redeem with your next purchase.


You need 100 reward points to get a $1 discount. So for every $20 worth of purchases, you get $1 off!
Size & Fit

Height- 10.5 inches
Diameter: 3 inches
Care

• Hand wash to get rid of the stickiness.
• You can also use Pitambari powder to wash copper utensils
• Copper oxide reacts with carbon dioxide and water in the air and may coat the surface with an iconic blue-green color. Washing can help get rid of it.

Shipping & Returns

Get free shipping for orders over 25$!
We charge $10 for shipping orders below $25.

In case of returns, please do it within a month. We accept returns of orders only within 30 days of delivery.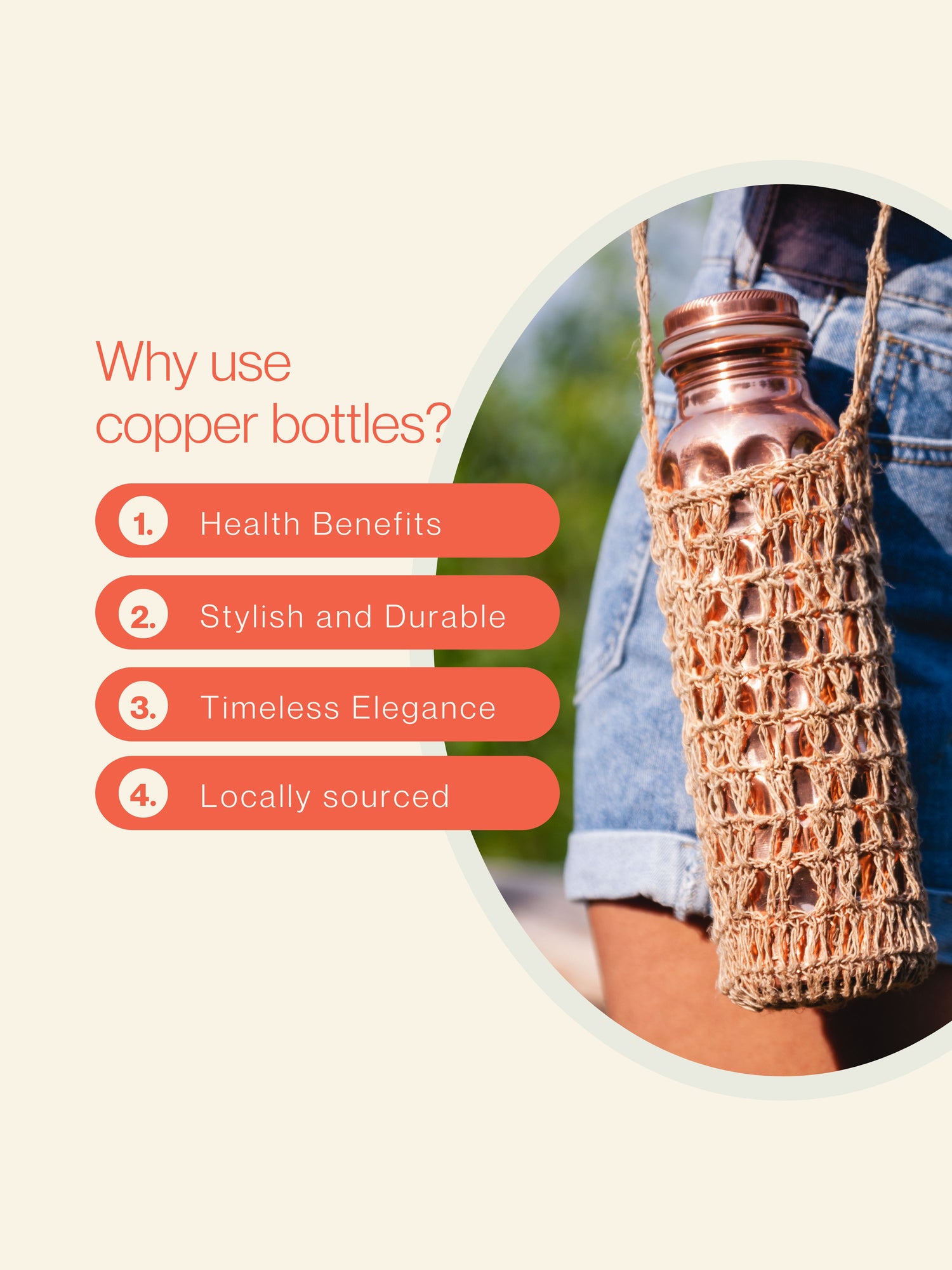 All the products in Yala Garden are locally sourced by using the finest quality of materials.
We believe that nothing is impossible when you combine collective force with brave ideas.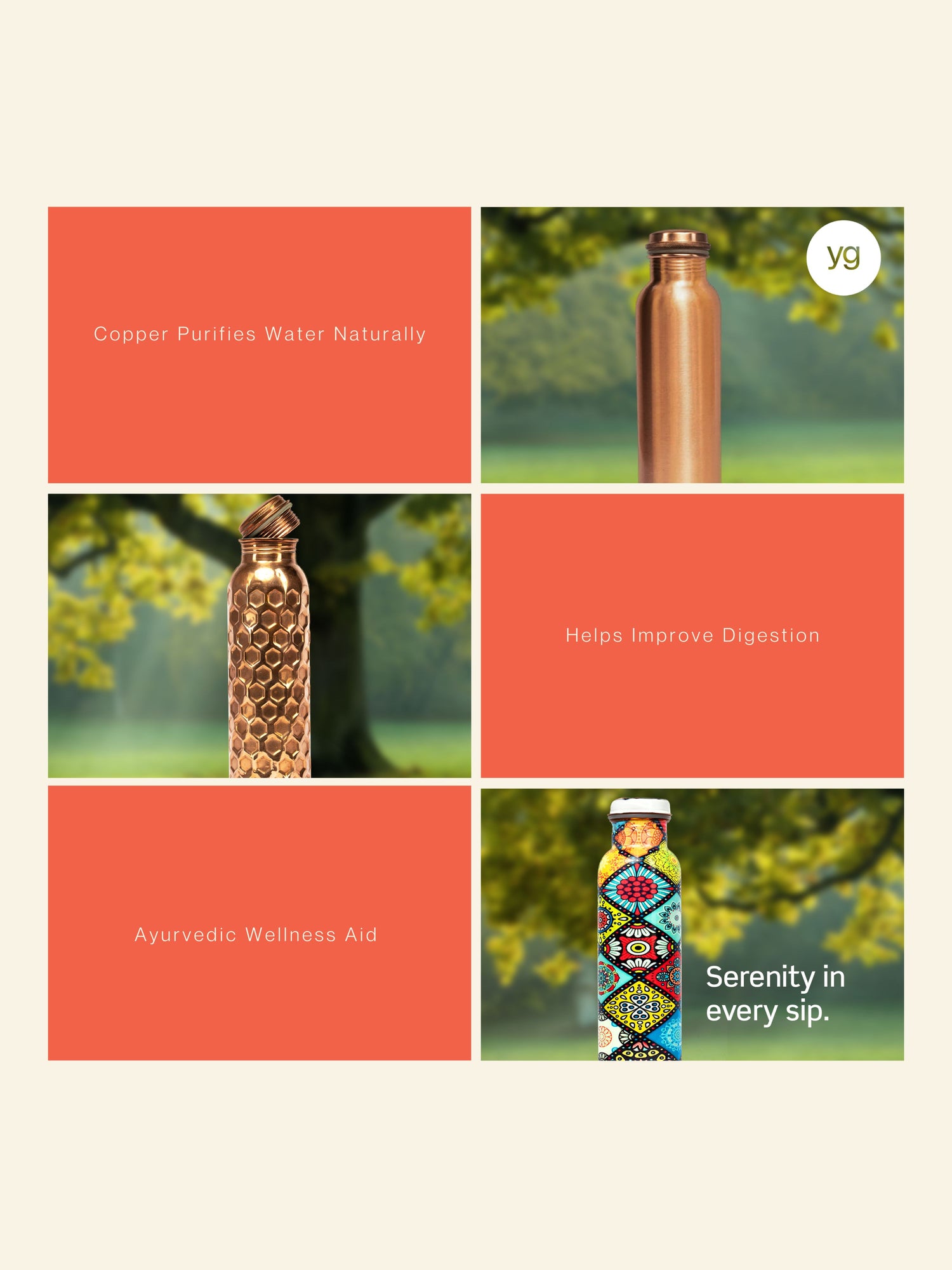 With every purchase, you are contributing to the empowerment of local artisans in Nepal.
Enjoy easy shipping and stress-free returns, ensuring your utmost satisfaction.
How to clean a copper bottle?

You can wash your copper bottle with clean water or dish washer. For better cleaning and to maintain the shine, you can use Pitambari powder available at Yala Garden. Pitambari powder is a special washing powder that helps to clean metals and keep them as good as new.
What is the green stain in copper bottle?

With time, you copper bottle can develop a green stain or patina. It is completely normal for pure copper bottle to develop that stain with use. You can wash your copper bottle with Pitambari powder, available at Yala Garden to get rid of that stain. Please note that the green stain doesnot compromise the functionality of your bottle and is completely safe and normal.
Is this copper bottle plastic free?

Yes. Copper bottles at Yala Garden are handmade and plastic free. This bottle is 100% pure copper.